Your School Can Save A Life
Athletic and academic leaders in our community have been instrumental in helping the EP Save A Life Foundation to find youth at risk for Sudden Cardiac Arrest (SCA). We have partnered with area schools to provide thousands of cardiac screenings to San Diego teens, which have identified hundreds of kids with undetected heart abnormalities—literal ticking timebombs.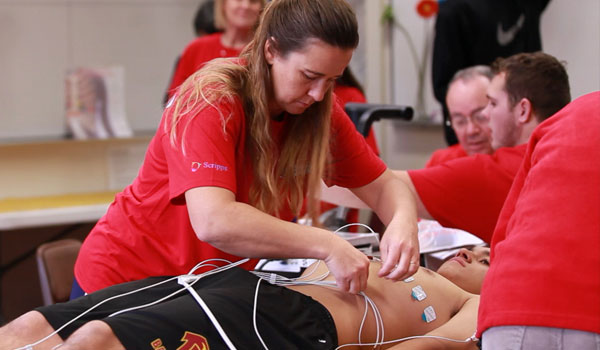 How you can help? Host a free screening.
WHY High school communities are wholly focused on the well-being of their teens. It's exactly the right environment in which to provide them a service and insight that could literally save lives. While high school athletes are 60% more susceptible to SCA, any teen could unknowingly be at risk. Our goal is to screen at least 1,000 students at each event.
WHO A screening must have support from school administration, athletics, teachers, boosters, PTA, ASB and parents. The screening must be fully promoted throughout the high school community. Our School Tool Kit provides turnkey resources necessary to reach participation goals. High schools often invite neighboring schools to co-host, though any teen can participate with proper registration.
HOW Parents register students for screening through the EP Save A Life website, download the screening packet and bring a completed copy with permission waiver to the event.
WHERE Screenings require an open area for registration that is close to classrooms where actual screenings are held. We normally require about six classrooms plus access to a break room for volunteers.
WHAT We require about 25–30 tables sturdy enough to lie on, 30 chairs and power outlets in each classroom. Your school provides about 40 volunteers who will be divided into two shifts (we provide the medical volunteers), plus refreshments, breakfast and lunch to accommodate up to 100 people.
WHEN To accommodate our volunteer medical team, screenings are held on Saturdays or Sundays from 9 am to 3 pm, with access to the site available from 7 am to 5 pm for set-up and tear-down.