Taking Prevention to Heart
Protecting Youth From Sudden Cardiac Arrest Through Awareness, Education and Action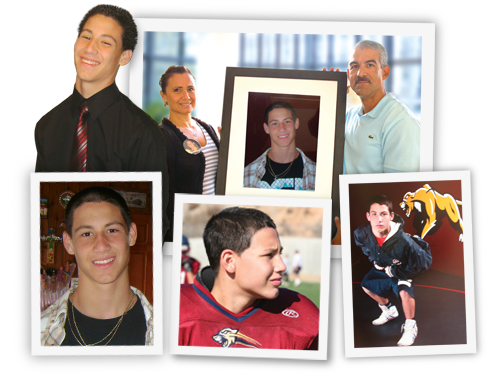 Eric A. Paredes • May 3, 1994–July 23, 2009
In July 2009, Eric was packing to go on a family vacation. His mother left the house for an appointment and his father came home for lunch 20 minutes later. He found Eric collapsed on the kitchen floor and started CPR, but it was too late. Eric's life was lost to an undetected heart condition. He was a healthy, happy, outgoing, energetic young man who loved life, his family and his friends. He was passionate about making changes so that the world could be a better place. He wanted to be a police officer. Through youth heart screenings, placing AEDs, demonstrating CPR, implementing cardiac emergency response plans and advocating for new laws and better prevention protocol, we honor Eric's legacy to protect young hearts.
Take a Youth Cardiac Risk Assessment

Be aware of the warning signs and family risk factors of a potential heart condition. Learn more.
Learn CPR & How To Use An AED

Be prepared for a cardiac emergency. You can double or triple the chance of survival. Learn more.
Cardiac Emergency Response Plan

SCA is the leading cause of death on school campuses. Protect your school community. Learn more.
Run for SCA Prevention

Each August, Cristian's Big Heart 5K dedicates proceeds to our Screen Your Teen program. Be a part of this great event and support free heart screenings for San Diego youth! 
Learn more
.
Sudden Cardiac Arrest Prevention Law

EP Save A Life has sponsored and supported several state laws that require new sudden cardiac arrest prevention student/coach protocol for school and community sports programs. Learn more.
Free Online CME

Make Sudden Cardiac Arrest prevention part of your practice by learning the latest practices for cardiac risk assessment in youth. Learn more.
Thanks to Our Generous Community Partners