Keeping a Pulse on Sudden Cardiac Arrest Prevention in Youth…
Eric was a healthy Steele Canyon High School sophomore athlete who died suddenly and unexpectedly from Sudden Cardiac Arrest/Death (SCA/D) in 2009. His parents, Hector and Rhina Paredes, established EP Save A Life Foundation to honor him through their commitment to prevent this tragedy from happening to other families. Saving lives is paramount to our mission and prevention is our goal.
After more than a decade, our foundation has reaffirmed our vision to eliminate the tragic consequences of sudden cardiac arrest in youth. In San Diego, Eric's legacy has compelled us to provide thousands of free heart screenings that led to potentially life-saving intervention for hundreds. Place hundreds of AEDs in youth communities that now help protect schools of hearts. Advance awareness and education about the critical need to realize the true incidence of SCA in youth.
Each year thousands of our kids continue to die from a silent killer that often has unrecognized symptoms or warning signs. How many children must suffer sudden cardiac arrest for our state and nation to give merit to the importance of prevention? From primary care to heart screenings, CPR/AED training to Cardiac Emergency Response Plans, each could literally mean the difference between life and death. The Eric Paredes Save A Life Foundation is committed to a strategy that will pursue standardized prevention of SCA in youth in the pediatrician's office, on the field and in the classroom throughout California.
Our Vision
The vision of the Eric Paredes Save A Life Foundation is that sudden cardiac arrest will be exposed as a grave and overlooked health risk affecting young people, which will lead to mandatory cardiac screenings and the required placement of AEDs and cardiac emergency response planning and training in schools and youth-centered programs.
Our Mission
Through awareness, education and action, our mission is to influence families, youth, educators, sports programs, elected officials and the medical community to recognize the incidence of sudden cardiac arrest in youth, to support the standardization of prevention protocol at home, in school, on the field and at the doctor's office, and to empower youth to become the next generation of life savers.
Our Purpose
As we approach our 15th anniversary growing the footprint of Eric's legacy, our foundation has reaffirmed our commitment to provide critical SCA prevention resources to fill the gap in care, while in tandem advancing a strategic goal to drive comprehensive systemic change in health literacy and prevention practice and policy that will impact the State of California and beyond. We Are Taking Prevention to Heart.
2021 Annual Report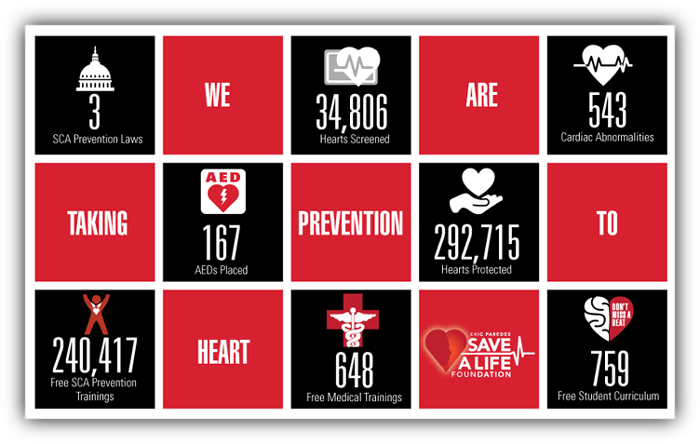 The Eric Paredes Save a Life Foundation is a member of Parent Heart Watch, a national network of parents, families and partners dedicated to reducing Sudden Cardiac Arrest (SCA) in youth through education, advocacy, and implementation of nationwide programs and a dedicated network that strives to turn the tragedy of each lost teen into positive actions that will save young lives.